How to register your staff on Crowded
1. Log in to Crowded's web portal.
2. Go to the "Contacts" tab and click on "Invite Contacts."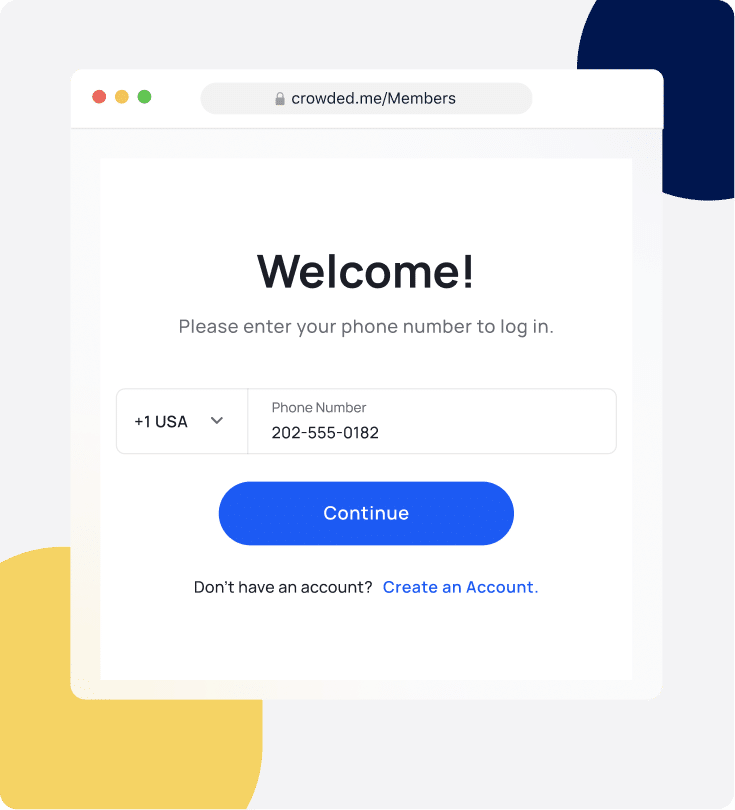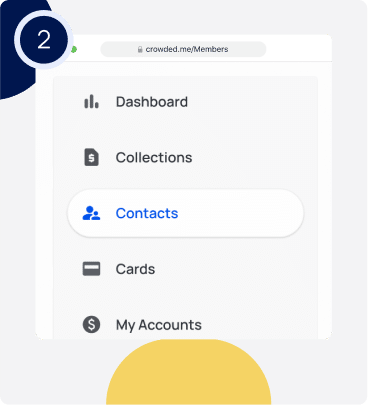 3. Copy your shareable invite link and send it to your staff members.
4. Once your staff clicks the link they'll be prompted to download the app and enter some basic personal info to complete their registration.
☝️ If you prefer to have our team take care of the registration process for you before camp, send us a spreadsheet containing your staff members' first and last names, email addresses, phone numbers, and dates of birth.
Email this spreadsheet to [email protected], and we'll handle the rest.
How to use Crowded to pay your local & international staff
Once your staff members are successfully registered on Crowded, you can start setting up their staff accounts.
Once you've created a staff account for each of your staff members and funded the accounts, your staff will be able to access their funds by logging into the mobile app using their phone number, 4-digit PIN, or Face ID.
To create staff accounts:
1. Navigate to "My Accounts" and click on the "Staff Accounts" tab.
2. Click on the "Create Staff Accounts" button.
3. Select the users you would like to issue a Staff Account for.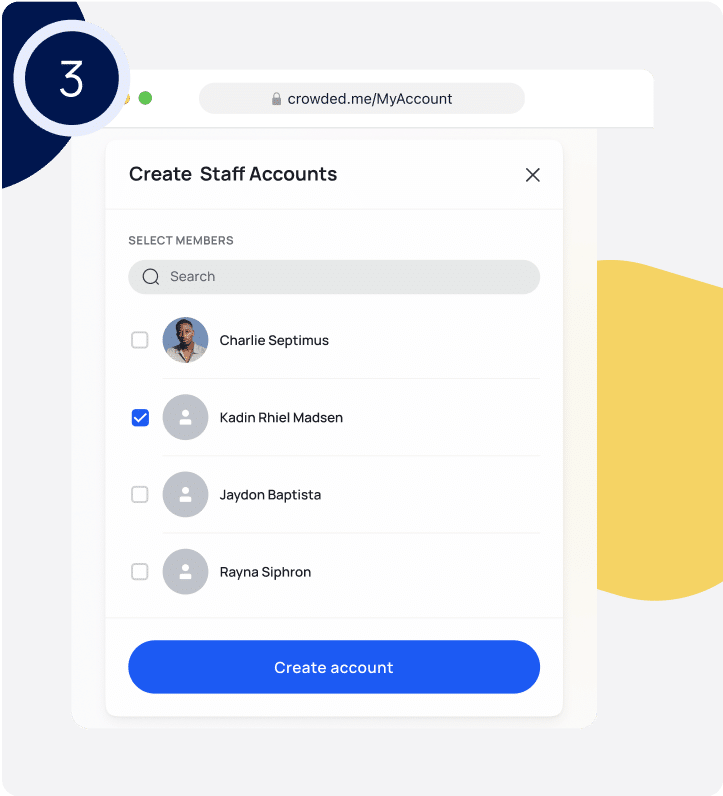 ☝️Physical debit cards are available to order for all staff accounts. To place a physical card order and to receive batch pricing, please get in touch with [email protected].
4. To add funds to a staff account, first, go to the "My Accounts" tab, and then select "Staff Accounts." From there, you can easily transfer funds from your Crowded balance to a specific staff account. 
To do this, select the account by checking the box next to the staff member's name, and then click on "Add Funds." If you want to add funds to multiple staff accounts simultaneously, you can do so by selecting the checkbox next to "Staff Account User Name," and then clicking on "Add Funds".
Alternatively, if you wish to use your existing payroll to fund these accounts, you can export all the necessary transfer information for each staff account by clicking on "Export All."
Staff members will be able to transfer funds out of their account to US bank account via ACH transfer or to international accounts using Wise or PayPal.
How to use Crowded to manage counselor camp-related spending
With Crowded, you can assign digital Visa® debit cards to your staff members that are linked to your organizational account. These cards have a $0 balance by default, and counselors can only spend the amount allocated to them by a camp admin.
All spending details are automatically recorded in your transaction history, which can be seamlessly integrated with bookkeeping and accounting software such as Quickbooks and Xero.
This provides a streamlined and efficient way to manage counselor spending while keeping track of all transactions in one place.
After your staff has registered on the app, you can issue a card to any of them by going to the "Member Cards" section on the main dashboard and clicking "Add Funds."
Then, select "Issue Card" from there and confirm your selection by clicking "Yes."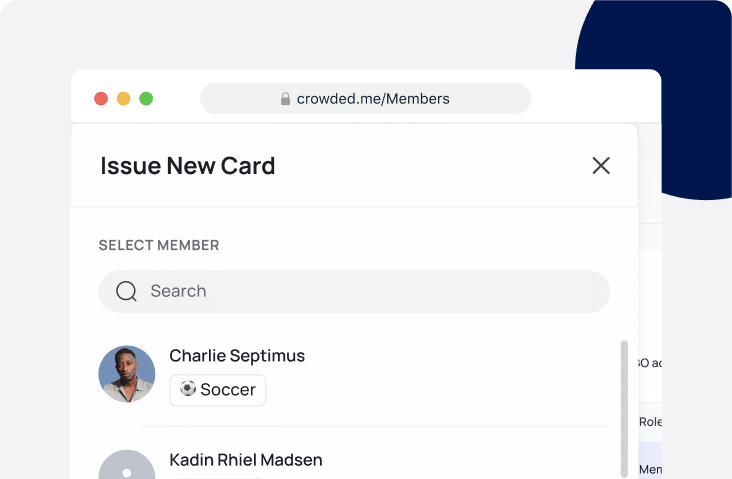 When you're ready to add funds to a card, return to the "Member Cards" section and click "Add Funds" again.
Check the box next to the member(s) you want to send funds to, enter the desired amount (along with an optional reference note for bookkeeping), and click "Submit."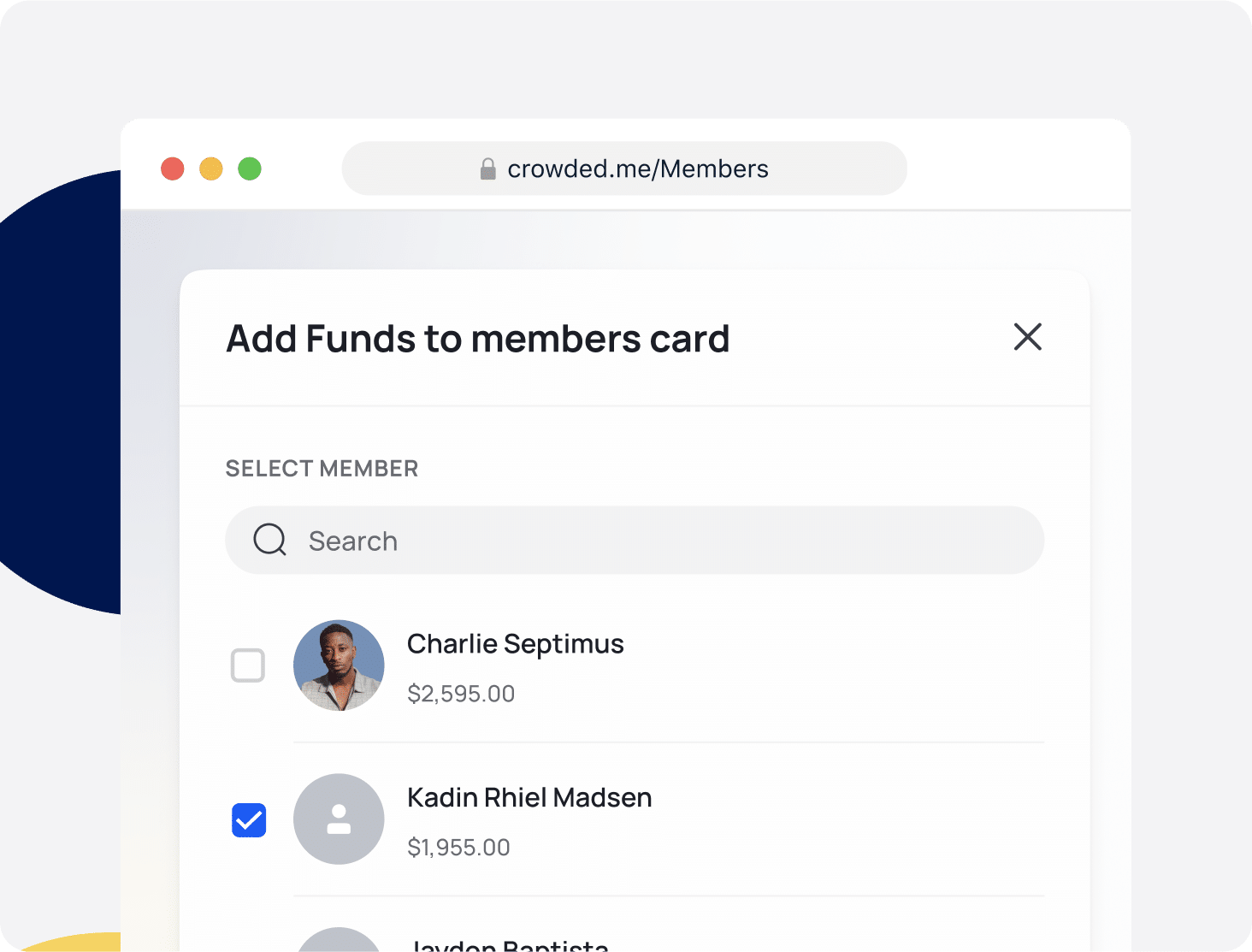 If you need to freeze, redeem funds back from the card, or cancel the card at any time, go to the "Member Cards" section in the "Cards" tab of the platform to perform those actions.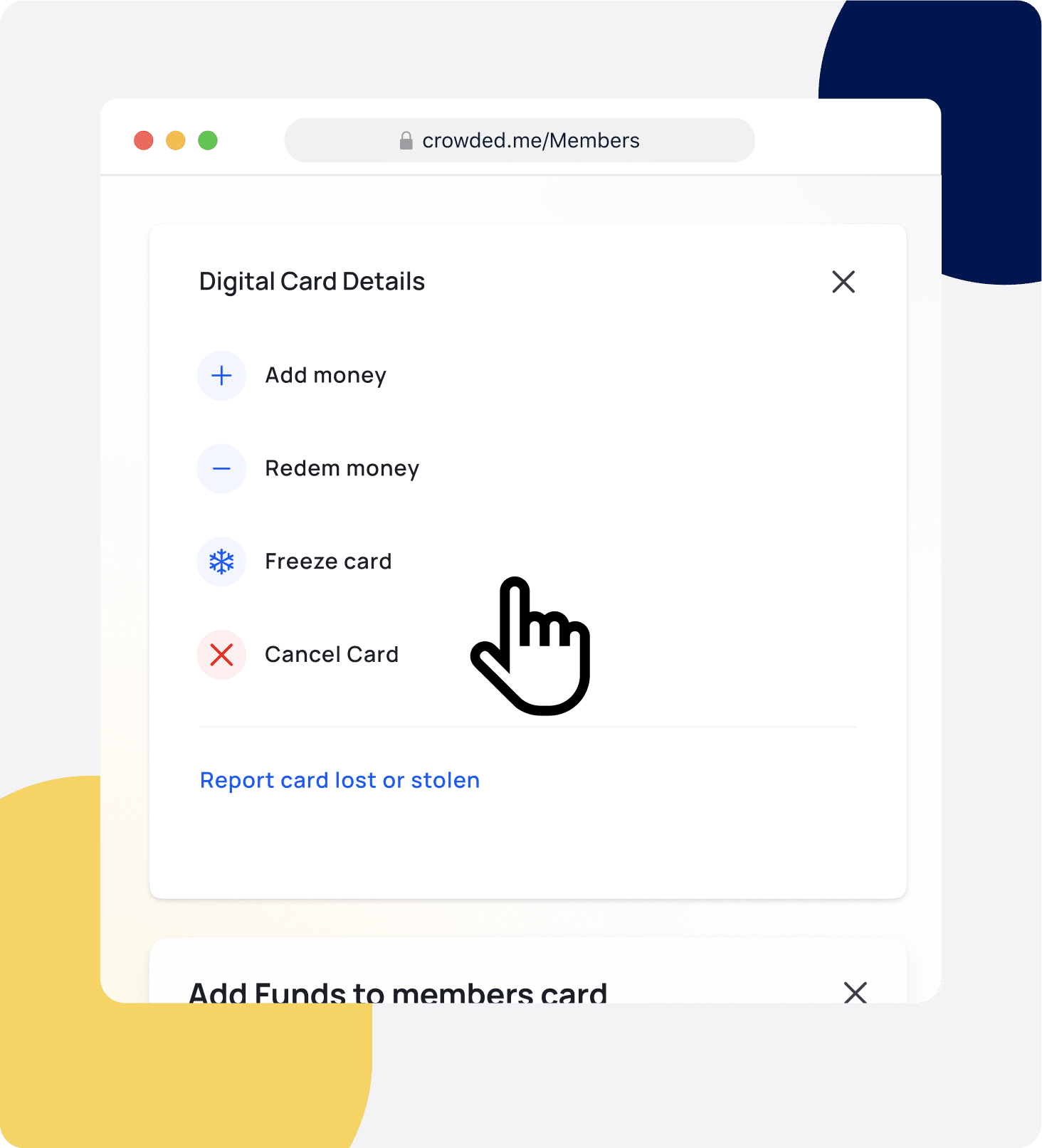 How to use Crowded for point of sale(POS) payment collection at your canteen 🍫
With Crowded, you can give staff who manage your canteens an admin role on your organizational account, enabling them to accept payments directly from their mobile phones at the canteen.
To assign an admin role to a staff member on Crowded, go to the "Members and Tags" tab on the web platform and select the checkbox next to their name.
From the menu that appears at the bottom of the screen, select "Change Role" and then choose "Admin."
Once you've designated a staff member as an admin, they can log into the Crowded mobile app using their phone number and accept point-of-sale payments.
They can do this by selecting "Collect In-Person Payments" from the main menu on their mobile device.
☝ This feature provides a convenient way for staff members to manage payments at the canteen without the need for physical payment terminals or cash transactions.
By allowing staff members to accept payments directly from their mobile phones, you can streamline your payment process and improve the efficiency of your canteen operations.
Additionally, all payment data is automatically recorded in your transaction history for easy tracking and reconciliation.