When it comes to managing your sports team's funds, you gotta getcha head in the game
Managing your sports team's funds can be challenging, especially if you are relying on volunteers with little financial experience. Mismanagement of your team's funds could jeopardize your group's ability to keep playing the sports that you love. So, what is the best way to manage your sports team's money?
This blog will be a play-by-play for sports team heads and treasurers to manage funds efficiently and effectively.
How to establish financial best practices for your sports team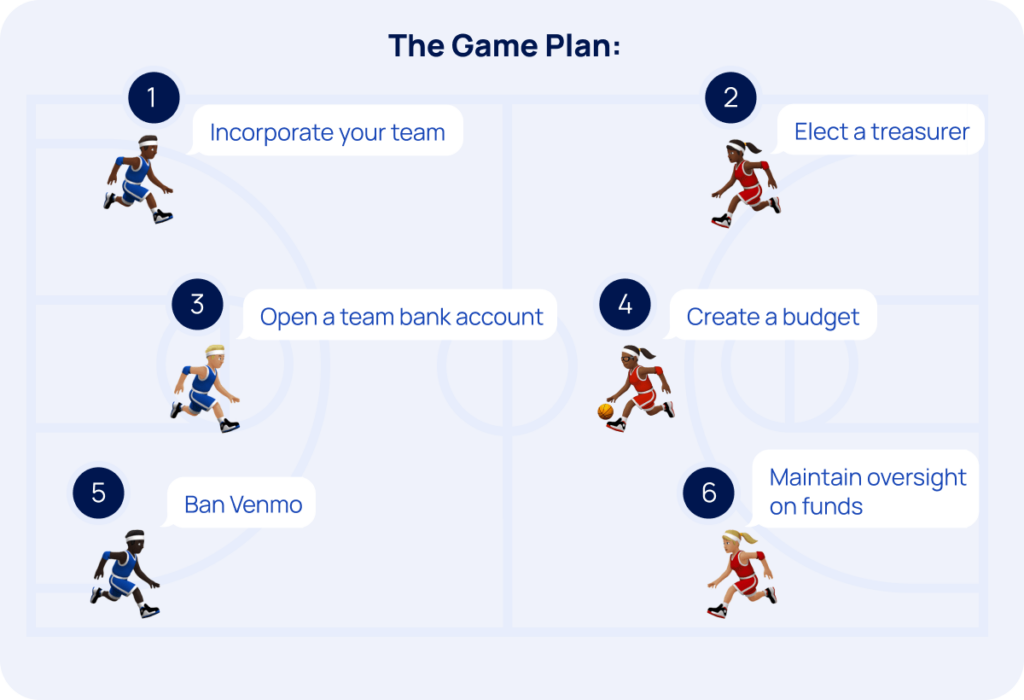 1. Incorporate your Team
If your team hasn't already incorporated, this is a crucial step for any team. There are serious liabilities for playing organized sports without insurance. like if a player was to get injured another member could be personally liable.
When incorporating your team, you can choose to become an LLC or a 501(c)3 nonprofit.
The process of becoming an LLC is pretty straightforward. You will be liable for taxes, and can register a bank account in your team's name.
Incorporating as a nonprofit, on the other hand, is longer and more complicated, but has certain perks. Your team will be tax exempt from any federal income tax, and depending on your state, could be exempt from sales tax as well.
Read our guide on how to incorporate as a nonprofit for more information.
2. Elect a treasurer with a financial background
The first step towards having a financially successful team is having a dedicated treasurer. The treasurer should NOT be the coach, but rather someone with some financial expertise involved in the team. All the relevant parties in your team should come together for an election for a treasurer, and pick the best fit for the team who has financial experience!
 
3. Open a team bank account in the team's name
Opening a bank account specifically for your sports team is crucial for its long-term success for a variety of reasons. It is important to set up the account in the team's name.
A dedicated team bank account in the team's name will allow for:
Spending and collecting of funds into one place
Issuing and cashing checks in the team's name
Smooth officer account handovers when transitioning from outgoing to incoming treasurers
Eased compliance with tax reporting requirements
Transparency of usage of team funds
Tip: Consider creating a bank account at a team oriented digital banking provider for customized solutions such as digital officer handovers, budgeted debit cards, easy membership fee collection and more.
 
4. Create a Team Budget
A team budget will help you plan and control your team's expenses. Your sports team budget should include any costs that you foresee for your team during each season. These could be tournament registration fees, trips, travel expenses, jerseys, snacks, equipment or any other team specific line items. We suggest using a budgeting template to help you get started.
After creating and sharing your budget with the rest of your team, it's important to compare your budget with the team's actual spending throughout the season and again at the end. If there are leftover funds from the season, discuss with your team what to do with it. Keeping the relevant members of your team informed about the budget is crucial for creating an environment of trust and accountability
5. Ban the use of Venmo and Paypal
When collecting team fees, or managing who's gonna bring the chips n' salsa, it might be tempting to fall back on the popular mobile payment apps – Venmo, Paypal, Cashapp etc. But for the sake of your team, do not give in to those temptations. There is no way with these apps to sign up on behalf of the team, meaning that personal funds and personal details will need to be involved.
This is problematic for a few reasons:
Although it may seem harmless to use these apps for small transactions, it is best communicate to the whole team to avoid them altogether.
Tip: Consider using an online payment collection service to collect payments from your team members. Easily keep track of who has and hasn't paid, send reminders, in some cases, no app downloads are required and simply send a secure payment link with these services. (It's even better if your banking provider also has a payment collection service like Crowded does)
6. Maintain oversight on team funds
Your sports team should not suffer financial losses. You can prevent fraud, embezzlement, and fund mismanagement by implementing steps to keep your team's funds safe:
Always have more than one pair of eyes on the finances of your team. 

Make sure that all team transactions occur within the dedicated team bank account.

Monitor your team's budget for inconsistencies.
And thats it! Following these 6 steps will be sure to get your team on the right track for financial success.